Service Apartments Gurgaon
Looking for Furnished Service Apartments in Gurgaon? You have come to the right place! We have a wide variety of rental Serviced Apartments in Gurgaon in multiple locations. The stylish apartments are fully furnished with amenities like private kitchen, Wi-Fi Internet, Tata Sky TV, Laundry & housekeeping, providing home-like comforts. All Bedrooms are beautifully decorated in light modern colors and have attached bathrooms plus private lounge areas and large balconies.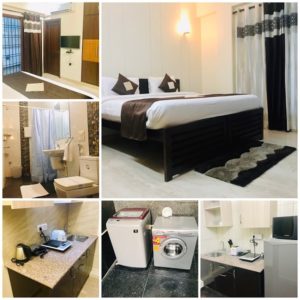 Spread across DLF Phase IV & Sushant Lok 1, we offer custom-designed Serviced Apartments with private Kitchens and available in different sizes. They are very popular with Corporates looking for short/long stay accommodation & Medical Tourists … READ MORE
* Units Available – Studio Apartments, One to Three Bedroom Serviced Apartments
* Neighbourhood – DLF Galleria Market, MG Road, Golf Course Road, HUDA City Centre Metro Station
* Rentals – Start from Rs 2,240/day
Click to View Rates & Book @ DLF Galleria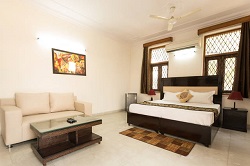 Located just across DLF Cyber City in DLF Phase 2, our Serviced Rooms & Studios are ideal for Corporate Executives working out of DLF Cyber City & Udyog Vihar .. READ MORE
* Units Available – Serviced Rooms & Studio Apartments
* Neighbourhood – DLF Phase 2, Cyber Hub, Udyog Vihar, MG Road, Sikanderpur Metro Station
* Rentals – Start from Rs 1,450/day

Click to View Rates & Book @ DLF CyberCity

* TIP – Check out our Seasonal Special Deals on the Offers Page! *

The typical clientele at our Service Apartments in Gurgaon is Corporate Executives working on projects at the various global MNCs in Gurgaon. With various accommodation options of flexible stay durations & affordable rentals as per individual needs, we endeavour to offer our guests all basic facilities of any regular hotel combined with greater space and privacy like their own homes.

We are also popular with Medical Tourism guests as quite a few of our Serviced Apartments in Gurgaon are situated in the vicinity of hospitals like Medanta Medicity, Artemis Hospital, Fortis Healthcare and the MAX Hospital. The typical guests in such Medical Tourism serviced apartments at Gurgaon are from various nationalities who have come down to India to utilize services of our top healthcare facilities

In-house Concierge Desk – To ensure complete value proposition, besides providing Luxury Serviced Apartments in Gurgaon, you can also avail the services of a professional in-house Concierge Travel Desk that can assist in – organizing airport transfers, flight tickets, daily rental cars, restaurant/movie bookings and sightseeing tours for our guests and their families.

Just browse and click on individual apartment listings to view more information about them including pictures, facilities, locations etc. To send your Bookings OR Enquire about Service Apartments in Gurgaon, please use our Contact Us Form.

Our team ensures that booking an apartment is easier than a hotel. Our Service Apartments Gurgaon experts will be happy to guide you towards the perfect serviced apartment for your stay at Gurgaon and also assist with any other travel requirements of yours.

Can't find a serviced apartment matching your needs? Just fill up our Contact Form and we will source it for you.

Wondering where to stay in Gurgaon?
We have seen a recent trend where rental serviced apartments are replacing the age old concept of bookings at Hotels in Gurgaon and Guest Houses in Gurgaon. These serviced / vacation rentals offer a wide selection of – budget apartments or luxury serviced apartments accommodations in Gurgaon that are available for both short and long term rentals. These serviced residences are essentially rental homes, apartments and flats that are fully furnished to give a complete hotel apartment feel. The Corporate serviced apartments near DLF Cyber City & other primary office hubs are a very popular alternative for business executive housing in Gurgaon, as well as those who are looking for full service apartment hotel suites in Gurgaon.

*NEW* – On popular demand, we are now offering a hand picked selection of furnished and unfurnished apartments in Gurgaon for short or long term rentals in all the below mentioned areas and condominiums of Gurgaon –
Unfurnished as well as fully Furnished Apartments in Gurgaon for rent on MG Road, Golf Course Road, Sushant Lok, Sohna Road, Essel Towers, Heritage City, DLF Icon, DLF Park Place & Summit, Vipul Belmonte, Ambience Lagoon, Central Park, South City, Uniworld City, Nirvana Country and Uniworld Gardens among others.

Please contact our Serviced Apartments Reservations Specialists at +919899906400 to select and book the Best Service Apartments in Gurgaon for all your stay requirements in our city!

Why Gurgaon?
The city of Gurgaon shares a border on two sides with Delhi, the capital of India. It is considered to be a part of the National Capital Region of Delhi (NCR) since it is one of Delhi's four major satellite cities. With Delhi's increasing population and lack of space, Gurgaon has become an ideal alternate for businesses to setup IT & ITES offices in this booming metropolis. This proximity to Delhi and the Indira Gandhi Airport, combined with the favourable tax policies of the Haryana government and improvement in the city's infrastructure have together resulted in Gurgaon becoming a leading outsourcing and off shoring hub of the world.

Why book a Serviced Apartment instead of a Hotel in Gurgaon for a Stress-Free & Enjoyable Stay?
Whether you are going for a holiday or official tour, stress is the thing which builds up as you come closer to the date of journey. Though it does not ruin your journey or vacation but it surely put its impact if the accommodation chosen is not up to the mark. Accommodation is the most important thing which one should check before planning a holiday as he has to spend most of his time there.

For longer stays, hotels are not at all comfortable and convenient as one might not get essential things such as comfort, privacy, personal services and amenities. Therefore, choosing any serviced apartment is the best decision one can make while planning a holiday or official tour in order to grab all what they want.

How do our serviced apartments make your vacation enjoyable, stress-free, and convenient and quite an experience? Lets find out below:
* All your things will be managed by housekeeping staff: Our Serviced apartments are often considered as the second home for tourists. All those little chores which you used to do by yourself will be managed by the staff so that you don't need to worry about anything. You can easily focus on your work or travel without any hassles.

* The entire family can stay together: This is yet another advantage that all our service apartments offer to guests that they can stay together without booking two rooms. These apartments come in different sizes and offer plenty of space which enables you to stay with your family in one apartment. Therefore, you don't need to climb stairs or knock door of other apartment to wake up your siblings or family members.

* You can get ample amount of personal space and privacy: Unlike hotels, our properties gives you a private stay in which you can have some personal alone time with your beloved or family without any interference. As these apartments are located in posh residential areas, guests can enjoy peaceful surroundings and spend some beautiful time without the disturbance of anything making them ideal Vacation Homes or Holiday Rentals.

* You can choose from various facilities and amenities: Our Serviced homes offer plethora of services as well as amenities to make your stay super comfortable and enjoyable unlike hotels that offer limited and chargeable services. Here you can ask for personal housekeeping staff, personal cook, personal driver, personal concierge, Wi-Fi connectivity, TV connection, Ironing board, Laundry service etc that automatically makes your stay stress-free and enjoyable.

* Ample amount of space: Our Serviced residences are generally large in size so there is no space crunch. Every room comes up with attached bathroom and cupboards so that each and every member of the family will get enough space to keep his/her clothes. Moreover, many of the apartment rentals offer wide range of rooms and packages that are meant for family, individual or office group. You just need to choose your favourite group in order to have peaceful vacation without making adjustments.

Last but certainly not the least, our serviced apartments at Gurgaon are nothing short of home away from home where you can take the true feeling of home without realising that you are staying in a new city. We invite you to stay in one of our Vacation Rentals or Holiday Homes in Gurgaon for your next trip, we are sure that it will make your travel a memorable one.
Call us at +919899906400 and we will help design the perfect stay package for you!